Here's a small sample of my work.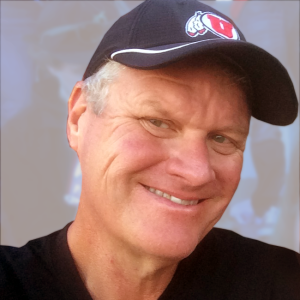 I'm Mike, the owner/operator of Fast Forward Productions, located in Salt Lake City, Utah.
I have over 25 years of experience in shooting and editing video, film, still photography and digital media. I can handle just about any project you can throw at me: live events, web projects, product videos, corporate image pieces, and commercials. I have a talented group of people I can call in for your project to help from start to finish. From creative development and scripting to full production crews to on-camera and voice-over talent, we can handle any project quickly, affordably and all under one roof. I know the Utah market, so I know where to get all the talent, locations and equipment you need.
Even though I'm a lot of fun and one heck of a guy, I don't expect you to just take my word for it. Check out the site for yourself. You'll find examples of my work, more details on the types of skills I will bring to your project and even some real testimonials from clients who've with me. After you see what I can do hit the contact button and we can discuss how to make your project happen.
9252
days of professional experience
Here's what we can do for you:
Any format, any place, any time. We can shoot whatever you need and make it look fantastic.
Editing just about every kind of project has taught us how to make videos and spots that flow and pop off the screen. Not only will your project look great, it will be edited on time and on budget.
We have shot a wide range of subjects for different project types, including lifestyle, industrial, aerial and travel to name just a few.
From the first spark of an idea to conceptual development to full on branding, we will make you stand out from the crowd.
From the simple animation of a logo to intricate, full motion special effects, we know how to enhance your project with graphics that sizzle and make any size budget look big.
From simple voice-overs to complete sound design. We have the tools, including sound effects and music, to make your project sound terrific.
Whether your project needs to be innovative and out there or highly-refined and micro-targeted, we can produce scripts that will make your project shine.
Finding the right spokesperson, actors and/or extras is often key to a project's success.  That's why our relationships with the local talent agencies will allow you to get the best for less.
Lighting can make or break a project. We have the experience to illuminate your project with the exact style and look it needs.
Your projects will soar to new heights with footage and still shots captured from our aerial drone.
Some projects require more manpower. Our connections with talented make-up artists, audio techs, gaffers, grips, production assistants, allow us to provide you with everything and everybody you will need.
Utah has a plethora of terrific locations to film and we know where they are and how to get there.
Or follow me on Vimeo, Facebook or YouTube.